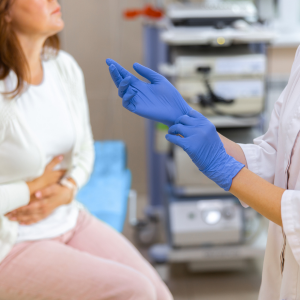 An ileoscopy is a procedure in which a doctor inserts an endoscope (a thin, flexible tube with a light and camera at the end) into the ileum (the last section of the small intestine) through a stoma or ileostomy.
It is often performed to diagnose and treat problems in the small intestine, such as inflammation, bleeding, or blockages. The procedure is usually performed under sedation to decrease discomfort associated with the procedure.  The procedure usually takes less than 20 minutes to complete, although can vary in length depending on the interventions performed.
The doctor may take samples of tissue or remove polyps (small growths) during the procedure. After the ileoscopy, the patient may experience bloating, gas, and discomfort, but these symptoms should resolve within a day or two.
As with any medical procedure, there are potential risks and benefits associated with ileoscopy. Overall, the benefits of ileoscopy in diagnosing and treating problems in the small intestine usually outweigh the potential risks. Your doctor will discuss the potential risks and benefits with you before the procedure and answer any questions you may have.
Benefits:
Can help diagnose problems in the small intestine that may not be visible with other imaging tests, such as X-rays or CT scans.

Allows the doctor to take samples of tissue or remove polyps during the procedure, which can help with diagnosis and treatment.

Can help identify and treat bleeding, inflammation, or blockages in the small intestine.
Risks:
Bleeding, infection, and perforation (tearing) of the small intestine are possible, although rare.

The procedure may cause bloating, gas, and discomfort, which should resolve within a few days.

There is a small risk of reaction to the anesthesia.